Click on icons to the left to browse galleries.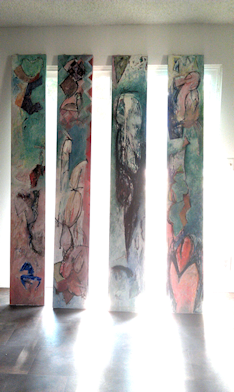 Here's what the critics have to say:
"His mixed-media canvases are brilliant billows of color that can barely be contained. ...These paintings are muscular. The color is bold, unafraid and willing to be ugly. With so much going on here, the canvases could seem busy or cluttered, but they don't." Douglas McLennan, The News Tribune, Tacoma, WA, Jan. 18, 1996 "Active surfaces with intensely colored and layered biomorphic forms ... still rich in the language of Abstract Expressionism." Joanna Koss, Art Access, Seattle, WA, September 1996

"Clayton swaths his subjects in bright hues and broad strokes, lifts them with sharp edges off muted floors, and moves us with primal pulses of silent color." Steve Reed, The Beachcomber, Vashon, WA, March 2000
Portrait of the Artist as an Ageing Man - History and development of my painting, along with a little philosophy and personal history
I Dreamed a Dream of Painting - Essay about why I quit painting.
For more early works and figure paintings see Paper Dolls.
Rhythms in Evolution - a special installation