Well, yeah, you can refuse any offer. But this one's pretty good if you're a book lover. I'm offering free copies of any of my books that have been on the market for more than a year (which at the moment is all of them). I can't afford to send out print copies. What I'm offering instead is original manuscripts in pdf form that you can read on your computer or other electronic device or print yourself if you want to hold the paper in your hands to read.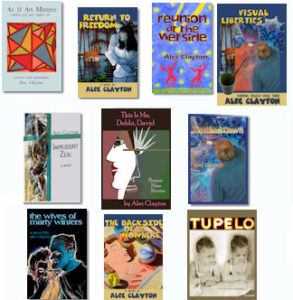 This is a limited offer. I'm making this offer in hopes that some of you might write customer reviews on amazon or post reviews on Goodreads. No obligation. No quid pro quo. If you don't want to write a review, then don't. That's all. But if you are willing to review the book(s), keep this in mind:
Be honest. If there are things about the book(s) you don't like, say so. Readers are smart enough to recognize a dishonest review. And do not indicate that we are friends or relatives. If you do, amazon will refuse to post your review.
To take advantage of this free offer, all you have to do is email me at alec@alecclayton.com and tell me which book you want. I can give you more than one, but only one at a time. To see which book you want, go to http://mudflatpress.com/alec-clayton/ where you can find book descriptions, reviews and excerpts.