by Alec Clayton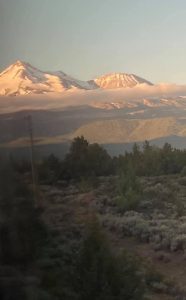 Going to visit Gabi's brother and sister in Northern California at the end of June 2020, the first thing I noticed looking out the train window was that almost immediately after leaving the Olympia/Lacey Amtrak station the tracks were following along what seemed to be a high plateau, almost like a levy. We were riding along close to treetop level, farmland and lush vegetation closing in on both sides of the train. Almost immediately I went into writer mode, mentally writing descriptions of everything my eyes lit upon. Green, green, green everywhere. Straight and tall tree trunks, black and gray, covered in blankets of green so thick it was like kudzu down South, but an endless variety of types of trees and shades of green: firs, pine, dogwood, oaks of many varieties and sparkling vistas of another kind of green flashing through openings between tree trunks—chartreuse washed in brilliant sunlight. Or sparkling bodies of water mostly hidden by the vegetation but peeking out in moments as the Coast Starlight barreled southward. Water follows the road almost unbroken from Olympia to Vancouver, 105.7 miles south. A succession of rivers that in many places look like narrow manmade canals and in other areas as broad and natural as can be.
Somewhere between Centralia and Kelso-Longview, Washington, I saw an old man sitting on a pile of rocks beside the tracks. Gray hair and long gray beard, wearing coveralls with no shirt. No more than a quarter mile farther south, a teenage boy sat on the side on the tracks facing away from us. Neither boy nor man paid the least attention to the passing train.
Trains don't pass through the wealthiest parts of town; they lumber through industrial wastelands and past rundown trailer parks. Through much of the day we passed by abandoned vehicles—not in junkyards, although there were one or two of those, but random wrecked, rusted and burned-out cars, pickup trucks and even a bus or two and an airplane in backyards and alongside roads and railways; and we passed by junk filled back yards of family homes. In one town, I can't remember where, there were houses after houses jammed closed together, each with a tall fence separating them from their neighbors, and in those yards were broken bicycles, swing sets, more junk cars, storage sheds, a few trees, and in one yard a plastic above-ground swimming pool. In the same town I saw a set of stairs to nowhere sitting in someone's yard. What could possibly be the story behind that, I wondered.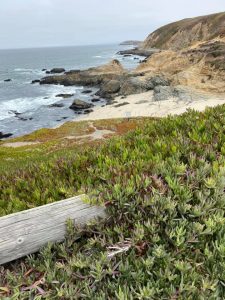 I thought every person who lives in one of those houses or works in one of the warehouses or other businesses we passed by and who once drove one of the rusting vehicles is a story. I thought this train trip could be a perfect structure for a novel. I thought of The Canterbury Tales wherein each traveler tells their own story. My wife and I could be the central characters, but we'd be younger, maybe in our thirties because nobody wants to read about old folks like us. Maybe we'd be named Jane and Robert, middleclass Americans going from Seattle to Los Angeles. For what purpose? I don't know. Maybe I'll think of something. A good story, after all, can use a good quest. As Jane and Robert pass by these homes, these characters, the characters will step up to tell their own stories.
The old man in the overalls. Now alone for reasons I can dream up, he once was the patriarch of a large family, a logger perhaps. No, the owner of a lumber mill which was once the major employer of half the families in a little Western Washington town, a father of half a dozen children and twenty-something grandchildren. Drink could have brought him to his present sad state. Or maybe he was falsely accused and convicted of some heinous crime, and even his own children turned against him.
The house with the swimming pool in the back yard. Ah, that scene is ripe for a rich story. A family who can barely afford to put food on the table living their version of the good life with their backyard pool. The tall privacy fence means nobody can see in, except passengers on the train that zips by at eighty miles per hour. They could be a couple with a wild streak, skinny dipping in their back yard, getting a thrill out of the possibility that one or two passengers on the Coast Starlight might happen to look out the window just in time to see them lounging naked beside the pool. They might be party animals who drink a lot, or maybe square dancers who get together with other dancers every Friday evening at the American Legion hut.
We had a roomette in a sleeper car, meals included with the ticket. A porter took our lunch order, which we could take in the dining car or have delivered to our room. The corona virus is raging in the world at large, and the railroad is strictly enforcing mask wearing and social distancing, limiting the number of people allowed in the dining car, unused tables between every occupied table, a gloved and masked waiter serving prepackaged meals. We ordered the Asian needle bowl. Not bad at all for a prepackaged meal, served with salad, a roll and a brownie.
After lunch, we did FaceTime with our son and his wife and children. His six-year-old son's latest passion is maps, and he got out his Atlas and followed our tracks, naming the rivers we crossed over, excited when we passed from Washington into Oregon heading to Portland. I was reminded of his father when he was twelve years old following maps as we traveled cross country, telling us what cities, towns and tourist sites were coming up next as we drove across Louisiana, Texas, Arizona and California. Our younger grandson was fascinated with watching out our window as our live camera documented our progress.
In Portland, I think it was, maybe Eugene, we passed an old warehouse with the printed sign on it: Boxing Gym. And I thought of a fighter named after his idol, Sugar Ray, training to be the next middleweight champion. Which Sugar Ray, I wondered, Leonard or Robinson. Sugar Ray Leonard, like his role model, Muhammad Ali, was flashy and quick. In defiance of the first rule of boxing—keep your guard up at all times—Ali would often hold his hands down by his side daring his opponent to try and hit him. Our modern-day Sugar Ray tries that and . . . wham! He's clocked with a left hook. But he hauls himself up, shakes his head, and keeps on fighting. His trainer yelling, "Gloves up, dammit!" Sugar Ray is skinny, and he's hungry, and he's determined to make it as a boxer. But doesn't stand a chance. Coulda been a contender. Well, maybe he can.
Going through the Cascades near Eugene, the landscape changed. Mountains and desert at once. The ground looked dry, sand-swept, beige, almost white dirt stratified in places with clay, tall evergreens and tree trunks and branches, black, white, and gray, scattered like pickup sticks on the ground. In places the tracks were mere feet away from steep drop-offs, and the train rumbled and lurched ahead. Once in a while we zipped through tunnels that were as black as the deepest interior of a cave and strangely silent.
And then it was night, and then it was bedtime, and the porter asked us to step out for a moment while she made our beds. Our facing seats slid down and together to make a lower bunk, and the upper bunk swung down. Climbing up into the upper bunk required bodily contortions no 77-year-old man should ever have to do. There was no room up there to maneuver. And I'm a tiny man, 5'3" and 130 pounds. I can't imagine how a normal-sized man could do it—a guy like, say, Rob Gronkowski or Shaquille O'Neal—there's absolutely no way one of them could.
By the time I was finally settled in bed, I was so short of breath it took a few minutes to restore normal breathing and settle into normal sleep. Of course, normal sleep for a man my age requires waking up two or three times to have to pee, which meant climbing down and back up all over again. Ugh, gotta go, gotta go.
I awoke at 5 o'clock the next morning and hung over the edge to look down, and I saw that Gabi was already awake, so I climbed down to join her, and we fixed the seats back upright. The dining car wasn't yet open, but the porter graciously brought coffee to our room. Not long after breakfast we transferred in Sacramento to a commuter train to the Fairfield-Vacaville station, where Gabi's sister, Mimi, was to pick us up. Her sister, fifty-eight miles away in Rhonert Park, could not leave to pick us up for another half hour or so, meaning at least an hour and a half wait. And I had to pee again really badly, and there are no restrooms at the Fairfield-Vacaville station. Not even a porta pottie. There's nothing there but a platform where train passengers unload and walk through a tunnel and up a set of stairs to a bus stop and park-and-ride lot. I did a lot of squirming and pacing, and finally I walked off and carefully did what I had to do—what homeless people have to do every day. Never again will I schedule a trip that ends at the Fairfield-Vacaville station.
Gabi's sister picked us up and drove us to her house where we had a nice lunch, and that afternoon we swam in her pool and relaxed in the hot tub, and relaxing and chatting next to the pool, I drank a bottle of Old Rasputin, a deliciously strong dark beer Gabi's brother, Michael, introduced me to, and I thought about the couple I had imagined skinny dipping in their above-ground pool in their little backyard at their little house in some small town in Washington, and I thought that in their imagination their little pool was as lovely as Mimi's with its manmade concrete mountain and waterfall off of which her grandsons dove into sparkling blue water where guests floated on orange and rainbow colored air mattresses—semi-tropical lushness with a myriad of various flowers growing along her fence.
I napped in a lounge chair by the pool and woke up slightly sun blistered.
The next day we took  tour of the beaches and cliffs near Bodega Bay. Mindful of the corona virus, a guard at Duncan's Beach restricted the number of visitors. We took a long walk in the sand and watched safely spaced family groups at play, and then drove up to Bodega Head and walked along the cliffs overlooking the bay, and then lunched on crab sandwiches outside at Fisherman's Cove.
Michael wanted all the family to get to see us, so he invited his stepchildren and their spouses and their children for a family gathering by the pool Saturday afternoon. The plan was to stagger who showed up when, so it would not be too crowded, and Mimi warned everyone that she and Michael and Gabi and I were more vulnerable to the virus because of our age and other factors, and they did—for the most part—maintain safe distances. But nobody other than the three of us old folks wore masks. It should be the less vulnerable more so than the highly vulnerable who wear masks, mask wearing being primarily to protect others, not oneself. But they didn't get that. Gabi and I were especially careful not to let anyone get too close to us. We loved getting to see everyone, but we do worry about possible exposure.
Time to go home. Michael drove us back to the Fairfield-Vacaville station, timing it so we wouldn't get there too early.
The drive over was great. Michael had intentionally taken back roads instead of highways so we passed by many farms and ranches and wineries, grazing sheep and cattle and even a bunch of Clydesdale horses bunched together by a fence. I have always marveled at the landscape in that part of California, especially the rolling hills that are brown with dried grass and sprinkled with clumps of low, round oak trees. From a distance they look like sleeping elephants with mange, a description that sounds horrendous but is actually beautiful.
Back at the Fairfield-Vacaville station, we caught another commuter train, this time to Davis instead of Sacramento. Naturally, I had to go to the bathroom immediately. The bathrooms were surprisingly large. I pushed the sliding door to the left and locked it. When I was done, I turned around to see that what I had thought was a mirror next to the door was the wide-open other half of a two-part sliding door. If you ever use a bathroom on a train that has a sliding door, make sure the door actually shuts and doesn't just slide left to right on half of the doorway.
We got to Davis about 8:00 and had a long layover. We had planned for that, and when the station attendant offered, we checked our bags so we wouldn't have to lug them around. We have good friends who live there who we hadn't seen in almost a decade, and they met us at the station with all of us wearing masks, and we walked two blocks to Woodstock's Pizza in the heart of Davis's trendy downtown. We ate on outdoor tables and, again, practiced social distancing. Good meal and great visit with our friends, then got back to the station.
The train was running late, so it was after midnight before we boarded and climbed back into our beds. The climb to the top bunk was easier this time. Less than five hours later, we awoke to a gorgeous sunrise near Mt. Shasta. At 14,179 feet, Shasta is only a couple hundred feet shorter than our beloved Rainier in Washington, and seen at sunrise from a train window, it is even more majestic. Sagebrush and low clumped trees in the foreground; yellow, green and gold foothills in the middleground, a low cloud slicing the mountain, and the snow-covered peak tinted pink by the sun.
Sometime after breakfast the woman in the roomette across from us opened her door. She was a large woman, and she was wearing what looked to me like black silk pajamas, shorts and a halter top with tiny straps. There was a tattoo portrait of Jesus on her shoulder blade. She was talking to—we assumed, based on the tone of her voice and the few words we could make out—a small child who was not where we could see him or her. "You wait right here. Stay still now. Mommy will be back soon." I saw her pick up and move a large stuffed bunny. When she finally stood up and stepped out of her compartment, she was carrying not a small child but a small dog.
There's not much else to tell. At the Klamath Falls station, we saw two old women on bench sitting properly side-by-side with their knees together. In unison, they raised their hands to shade their eyes. They watched the train stop and load and unload passengers, but they didn't board and they didn't meet anyone. They were still sitting in the same positions when our train pulled out of the station. By then I had grown tired of making up stories about people we encountered, but I filed away the woman with the dog and the Jesus tattoo and the two old sisters at Klamath Falls for possible future use in a story.
The rest of the trip was pleasant but uneventful, and we were glad to get home.
Photos – top, Mt. Shasta; bottom, Bodega Bay