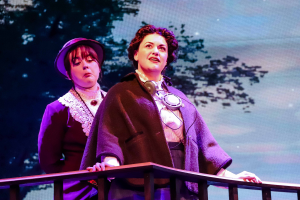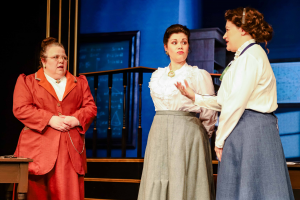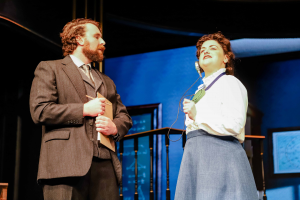 After having been postponed earlier in the season. Lauren Gunderson's Silent Sky opened at the newly remodeled Tacoma Little Theatre Friday, July 8, stunningly directed by Pug Bujeaud with an exceptional cast and a set and video projections by Blake York that are as unique and stunning as any this reviewer has seen locally.
Silent Sky was a winner of London's Olivier Award for Best New Comedy and an audience Choice Award from Broadway.com.
The surprising thing about this production is how funny it is despite being a serious story about genius women who bravely fight a system that is loaded against them. The quips and snide remarks between the co-workers: Henrietta (Jessica Robins), Annie (Rachel Permann) and Williamina (Deya Osburn) are priceless, and Peter's (Mason Quinn) bumbling attempts to befriend Henrietta are both poignant and hilarious.
Silent Sky is the true story of late 19th century and early 20th century astronomer Henrietta Leavitt who, supported by her female coworkers, made major scientific discoveries for which their male co-workers were credited until 100 years later. A farm girl from Wisconsin, Henrietta dreamed of being an astronomer and was overjoyed when she got her chance — or thought she did — when she was offered a job in the observatory at Harvard University. But she was not allowed to use the telescope. No field work for these women who were derisively called "Pickering's Harem" and "computers."
Yet Henrietta was obsessed with her research, so much so that she rejected her beloved sister and father's pleas for her to come home for a visit until her father had a stroke. She missed them, but her work was all-consuming.
Robins masterfully conveys Henrietta's complex feelings brought on by her dedication to her work and love for family. And her burgeoning love for Peter. The romantic side of this story is not based on fact and was added as a concession to popular taste. I think it is a beautifully written and acted by Quinn, and the character of Peter is useful in representing men of the era but could have been just as well left out to keep the focus on the women.
York's stunning set consists of a few tables and chairs downstage in front of a riser with a railing, and video projections of a starry night sky, the interior of their office, a scene of a busy industrial waterfront and other natural scenes with mind-boggling three-dimensional effects and subtle movements. There are also great costumes designed by Michele Graves.
From a director's note: "Leavitt found that she could accurately and consistently relate the period of a given star's brightness cycle to its absolute magnitude. The discovery of this simple and unknown relationship made it possible, for the first time, to calculate their distance from Earth. Henrietta Leavitt had just become, in the words of George Johnson, author of the book Miss Levitt's Stars. 'The woman who discovered how to measure the Universe.' From G, Mariani, 'Henrietta Leavitt- Celebrating the Forgotten Astromoner.'"
Silent Sky will run through Sunday, July 24.  Friday and Saturday showings are at 7:30pm and Sundays at 2:00pm.  Silent Sky is recommended for ages 12 and up.
Tickets are $27.00 (Adults), $25.00 (Seniors 60+/Students/Military), and $20.00 (Children 12 and under).  Tickets may be purchased online at www.tacomalittletheatre.com, or by calling the Box Office at (253) 272-2281.  Group rates are available for 10 or more, and special FLEX passes for 6 are only $145.00.  TLT requires masks while inside the building.  For thier full COVID-19 protocols please visit www.tacomalittletheatre.com/covid.
There will be a special "Pay What You Can" performance on Thursday, July 21, 2022.  Tickets for that performance are only available in person or over the phone.
Photos – top left: Jillian Faulk as Margaret and Jessica Robins as Henrietta; top right: Rachel Permann as Annie, Deya Osburn as Williamina nd Jessica Robins and Henrietta; bottom: Mason Quinn as Peter and Jessica Robins a Henrietta. Photos by Dennis K Photography.Tacoma Little Theatre, 210 North I Street, Tacoma, WA 98403    253-272-2281    www.tacomalittletheatre.com